The Best House Demolitions Perth!
We can handle any demolition job, no matter how large or small. Our demolition crew will quickly and efficiently tear down your house, leaving no mess in its wake.
Because of our extensive experience in the house demolitions Perth sector, we are confident in our position as industry leaders. Since our establishment many years ago, we have been well recognised as Perth's premier source of expert demolition services.
You can trust us to demolish your property quickly and effectively. While we have made our name in the commercial demolition sector, we are more than well-equipped to handle residential demolition projects as well. When it comes to demolition, you will find no one else better than us in the whole of Perth.
It's true that demolishing a house is a filthy and lengthy process, but we take care of all the dirty work. From start to finish, our team will make sure you don't have to worry about anything. You can trust that we will give your project our full attention.
Experts In House Demolitions Perth
Residential and commercial building demolition is our speciality. Our team's experience and the superior equipment we use mean we can get the work done quickly and effectively. We have the manpower and equipment to demolish the whole building or only the interior sections as needed.
Our rates are among the most competitive, and we provide a full guarantee on all of our work. Those in need of a house demolitions Perth company can stop searching now—we have exactly what you need. We have a team of seasoned and trustworthy specialists, who boast both deep knowledge in the field and a client-first mentality.
Get started with your house demolition project right away. Call us today!
Experience & Expertise In House Demolitions Perth
Potential clients are constantly looking for a trustworthy house demolition service, and this is where we come in. We are qualified at any level when it comes to demolition, and we always deliver beyond expectations.
With so many companies out there providing demolition services, it can be difficult to know who to trust. Before you go start calling people, you must first determine the quality and cost parameters within which you are willing to operate.
House demolitions Perth requires the services of a professional demolition contractor who can work quickly and quietly around the structure being demolished, while minding the houses of the surrounding residents. You should consider us if you want your project well taken care of. We have been doing this kind of work for clients for a long time, and have repeatedly proven that we can complete projects within schedule and on budget.
How House Demolition Is Carried Out
When we say residential demolition, we mean it in the context of tearing down houses and other residential buildings. Depending on your preferences, you can choose between interior demolition and the whole destruction of your residential property.
Demolition of residential structures raises additional challenges related to asbestos control. In case you didn't know, cancer-causing toxins, respiratory difficulties, and other potentially fatal health concerns have all been linked to asbestos exposure. When demolishing a building, contractors must carefully consider asbestos containment measures to prevent the release of asbestos fibres into the atmosphere and subterranean water table. With this much risk, asbestos testing and removal are fundamentally important first steps in every building demolition.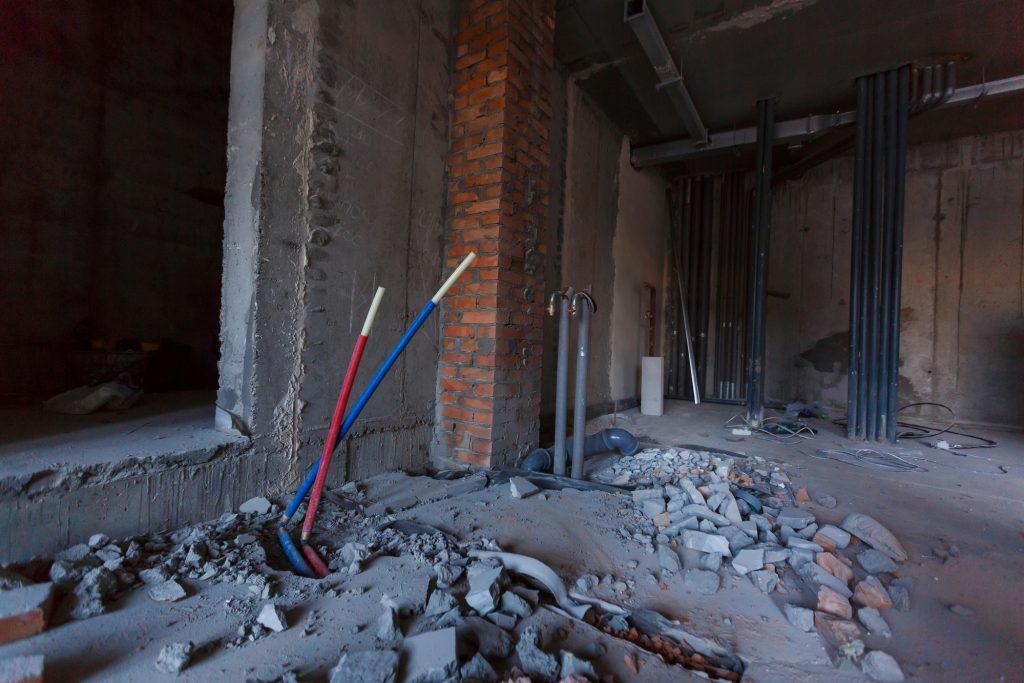 When removing asbestos from a building, the demolition team must use appropriate safety gear. That's why it's smarter and safer to hire a professional demolition service instead of trying to take care of the job on your own. Furthermore, our company is one of the few residential demolition Perth companies with extensive experience in asbestos removal.
We do more than simply knock down structures; we also gather and dispose of the trash in an efficient and safe way. When we demolish a property, we don't just leave the debris lying around for the customer to pick up afterwards.
Our ability to do excavation work after demolition completely complements our years of expertise in demolition. There is no need to find a separate company to handle the excavation once the demolition and debris disposal are finished. We are able to serve as your one-stop contractor for both demolition and excavation, and we do it with the utmost efficiency thanks to our skill and the high-quality tools at our disposal.
Call us today for a FREE quote on all residential demolition across Perth!
Professional Demolition Contractors
Residential demolition Perth is a challenging task that needs meticulous preparation and execution. Hazardous materials such as lead paint, asbestos, and mould must be removed from the house and disposed of appropriately before any demolition can begin.
Because of its unique nature, demolition calls for a different set of expertise than other types of building projects. Anyone attempting to perform this kind of job without the appropriate training and experience is asking for serious harm or possibly death. Demolition sites are very hazardous locations to work in due to a variety of factors, including asbestos insulation, gas leaks, and unstable flooring. Neglecting or ignoring these factors might have seriously negative effects on the property or, even worse, on the individuals working there.
There are also a number of complicated mandatory rules and regulations when it comes to demolition that can only be navigated by seasoned companies like ours. Before beginning a demolition project, it is necessary to get the necessary permits and comply with all applicable norms, regulations, and laws.
Both commercial and residential clients in Perth can make use of our demolition services. We have invested in the most cutting-edge demolition equipment to ensure that our team can complete any job, no matter the size. And when we're done, we promise to leave your site spotless.
Why You Should Hire Us For House Demolitions Perth
We are a fully licensed and insured demolition company operating out of Perth. Our company has been around for quite some time and offers a wide range of demolition-related services, so we have extensive experience with projects like this in the area. Our primary objective is to maintain competitive pricing while offering first-rate service to our clients.
Our goal is to be the go-to demolition service in Perth, so we take on a wide variety of commercial and residential demolition Perth jobs. You can have faith in our team of professionals to do the task efficiently, on schedule, and within your budget.
Call us today for a FREE quote on all house demolitions across Perth!